What to bring before your visit
What to bring before your visit:
It is very important to be prepared when you shop for any appliance for your home and a fireplace is no exception to this rule. The questions below will help to steer you in the right direction.
1. What type of fireplace are you looking for?
Gas Insert
Direct Vent
High Efficiency Wood Burning Insert
Wood Burning Stove or Gas Stove
Electric
2.If you currently have a fireplace, is it masonry (i.e. made of brick or stone) or is it pre-fabricated (i.e. the firebox and the flue is made of steel)?
3.Do you currently burn wood in the existing fireplace or do you have a gas appliance installed in it?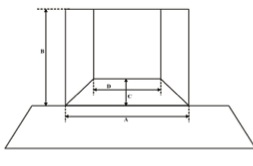 4.Bring a picture of the existing fireplace and mantel, as well as the inside of the fire box with the following measurements:
A.Front Width
B.Height
C.Depth
D.Back Width
5.Which floor will the replacement or new construction be on? How large is the room you would like the fireplace in?
6.Are you upgrading an existing fireplace or do you want to install a fireplace where there isn't one currently?
7.Will you need a new mantel and hearth or are you replacing and refreshing an existing one?
8.If you do not have an existing fireplace, take a photo of the wall where you intend to put your fireplace and one from the outside showing the location of the venting area.
9.Have as many photos of your home available to convey your ideas along with pictures from magazines of fireplaces you like.