FIRE MAGIC BBQ & GRILLS


Grill Like a Professional Chef
Once you have cooked on a Fire Magic, you are hooked. You see, while not the best known brand (at least not outside California) they have been making Professional Quality Grills right in LA since 1937. 74 years of experience – and it shows.
Fire Magic grills are the hottest grills available, they sear the meat, seal in the natural juices – so your steaks just taste better! There's a 1000 degree difference between high and low. On low it's low enough to be slow cooker, on high the stainless steel glows infra-red. The wide range of heat control allows you to create those beautiful cross hatch marks – the sign of a true professional.
Features Unique to Fire Magic …
Fire Magic Grills are consistently rated highly both by review sites and by consumers. They are known for their superior design, consistent heat, and durability. Unlike most of their competitors – they don't make appliances..nor have they shifted production to China. They have been making professional quality grills since 1937 in the United States. They have always been known for cooking well, and until recently had left the beauty awards to others, well that has changed. Fire Magic still cooks better than any other grill – but now also looks nicer than others too.
Fire Magic Built-In Grills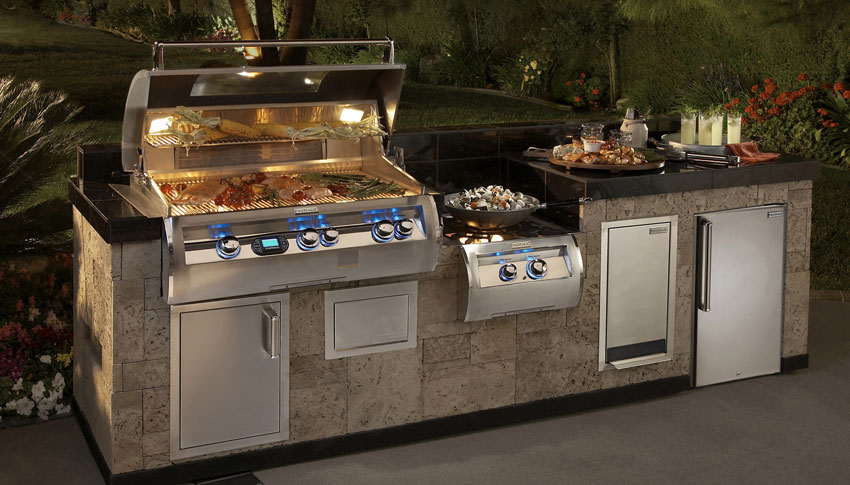 What you will get in your Fire Magic Gas Grill...
Heat
FireMagic grills just get hotter than other grills. Most talk about btu's per burner – but that has no relation to the size of the cooking surface. FireMagic grills are perfectly balanced to ensure proper cooking, so you will either get more burners or the btu's will grow with larger grills – or both. While you get a lot of heat – you also get control. Control knobs allow for precise heat control. On low you can slow cook, on high it's infra-red. Heat and control.
Even Heat Distribution
Cast Stainless Steel E Burners are part of a whole system to ensure even heat distribution so the are no hot spots or cold spots. This gives you greater use of the space relative to others.
Flavour grids, Depth of firebox, and our cooking grids also contribute.
Shallow Depth Backburner
Ours is made of Stainless Steel – unlike the ceramic of others. This allow us to both be shallow depth allowing more room for your food and is more durable – ours wont crack. Combined with our 12″ deep firebox and tall hood, this allows the greatest flexibility to cook on your rotisserie, up to 20″ in diameter.
Lights Every Time
State of the art ignition ensure that your grill is ready when you are.
Echelon Diamond series use Hot Surface Ignition (shown) which will even light in the pouring rain. Aurora uses battery operated electronic ignition.
Echelon and Aurora both feature push to light technology.
Cast Stainless Burners
Our Cast Stainless Steel E Burners are 4-5 times thicker than others and are warranted for life!
Interior baffling and Air Shutters give precision control of the gas to ensure an even burn.
Flare Ups are History
Stainless Steel Flavour Grids vaporize the liquids that cause flare ups. Several grill manufacturers have this feature, – only FireMagic gets hot enough to actually do this. Flavour grids get red hot – producing infra-red waves.
Heavy Stainless Cooking Grids
Heavy Duty, Stainless Steel cooking grids are burnished, giving them a virtually non stick surface without a "coating" that can wear off.
They are also spaced close together so your food won't fall through while you're cooking.
The grids cover over 50% of the cooking space, this contributes to even temperature across the cooking surface – say good by to hot and cold spots.
12″ Deep Firebox
Other Grills are 6-8″ Deep. Why is ours so much deeper?
First, you can put a bigger piece of meat on your rotisserie. But most important, its part of a unified system to ensure consistency of cooking through the grill surface.
It also puts your flavor grids farther from the cooking surface so when solid food drops on it an burns, you have less of a chance it will burn your food.
Digital Temperature Gauge
Other Grills put a thermometer in the hood – not smart. We have digital probes at each cooking zone – at the cooking surface. Echelons also feature a digital meat probe and optional remote readout.
Feather Light Hood
Double Wall Stainless Steel hoods are heavy. Our hoods are perfectly balanced and spring assisted so you can open the largest hood with one finger. Remote Power Hoods are also available on Echelons.
Rotisserie Rod Storage
It sounds simple, but sometimes the simple things make life much easier. Behind the hood, we have a storage place for the rotisserie rod.
Bumpers
Another simple idea, bumpers for the hood – front and rear. This prevents much of the metal to metal contact, so when you close the lid, it sounds like a fine auto door closing.
Halogen Lights
Integrated into every Echelon. They are angled for optimum results. Lights shut off when you close the grill lid and go on when you open. (Except for grills with the Magic Window)
We Measure Differently – be careful when comparing
We take our cooking grids, pull them together – and measure…giving you the dimension of the primary cooking space. Others measure the exterior of their grill – some the side shelf to side shelf.
What you will find is our 30″ grill is larger than most other 36″ grills.
Independent Cook Zones
FireMagic grills provide consistency of cooking and allow you to create cook zones. Echelons take it up a notch with zone dividers – to enhance your ability to create independent zones.
LED Backlit Face and Saftey Control Knobs
Each Echelon features a LED backlit display. These same LED's light interior of the control knob… blue when the gas is off, red when it's on… so you know from a glance if the gas is on.
Integrated Smoker Box
Echelons sport and integrated smoker box with a dedicated burner – it is also sealed – so you can fill it with wood chips or liquid to steam. Other FireMagic's you can use our super large smoker box accessory.
Magic Window
Large, curved viewing area – allows for ample view inside grill. Optional on Echelons.
Choice of Portable Grills or Island Grills
Freestanding Portable Models feature integrated all stainless steel carts with storage below grill and fold down side shelves. Most packages include 15,000 btu side burners and infra-red back-burners. Models are available from 368 sq inches to 1056 sq inches
Built in Island grills give you the flexibility to design your outdoor kitchen exactly as you wish. Choose from island configurations such as a Fire Magic Aurora 790 with access doors below the grill, a Fire Magic refrigerator with a side burner above as well as a double side burner off the left side and door below. Create your dream outdoor kitchen from custom masonry or any number of different pre-configured islands.
Contact us so we can help you find the right Fire Magic Grill for your backyard!