VALOR GAS FIREPLACES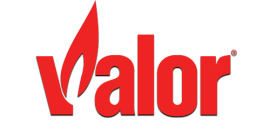 Hearth Manor carries a large selection of Valor Gas Fireplaces. Please visit our showroom, located in the Mississauga Home and Design Centre. Our Design Team will be able to design the fireplace of your dreams.
Valor HeatShift Technology™
Designed to reduce surface temperatures, the HeatShift System is recommended when adding heat sensitive materials directly above the fireplace.
When The Power Fails, Your Valor Won't
Valor fireplaces are fully functional heaters that don't use electricity. Our products provide efficient warmth, designed to heat your home without a fan or power supply. Engineered to circulate air through natural convection, Valor fireplaces are highly efficient without a fan – providing reliable heat, even during a power failure.