DIRECT VENT GAS FIREPLACES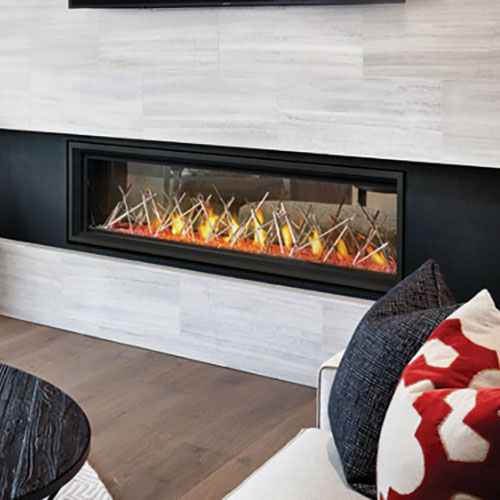 Napoleon's Vector™ series of linear gas fireplaces is the perfect fit for any room or anyone looking to make a statement in their home. Customize your fireplace with our selection of designer surrounds, choose a different surround for either side of the See-Thru Vector™ units to match or enhance your current décor. Napoleon's Vector™ Series can also match any interior design; with dozens of media options available the possibilities are endless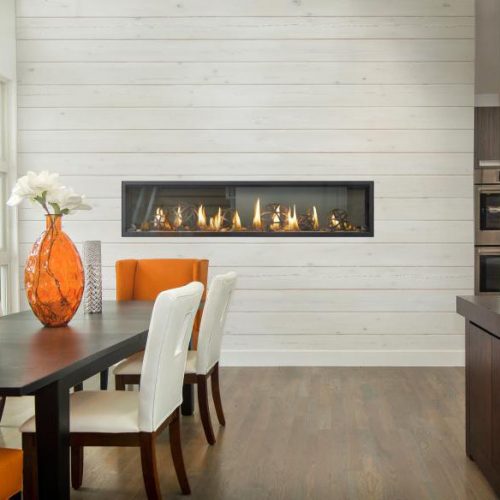 Napoleon's Luxuria™ series of linear gas fireplaces is perfect for homeowners, re-modellers and custom builders alike, with a multitude of designer options this series is the most versatile linear series available! Choose a single sided or maximize viewing with the see-thru model. With Napoleon's Luxuria™ series you are sure to enjoy your new fireplace to the fullest.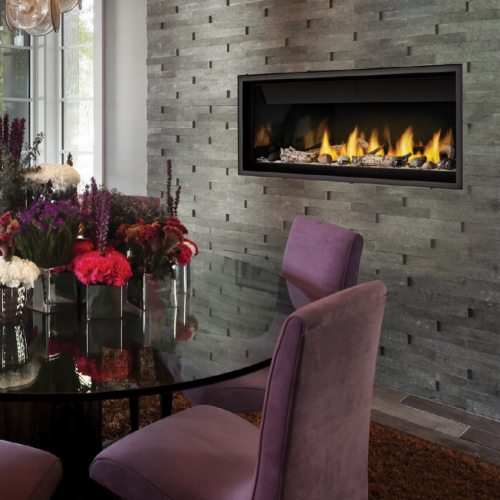 Multiple designer options make Napoleon's Ascent™ Series Linear Gas Fireplaces the ideal finishing touch for your home. Customize the look by adding optional media enhancement kits like the Beach Fire, Shore Fire, or Mineral Rock kit, which can also be mix and matched to create something truly unique. The eFire app allows you to easily control the fireplace from your favorite mobile device. Available in 36-inch and 46-inch, the Ascent™ Linear Series Gas Fireplaces can add luxury to one room with the single sided model, or two rooms with the See-Thru option.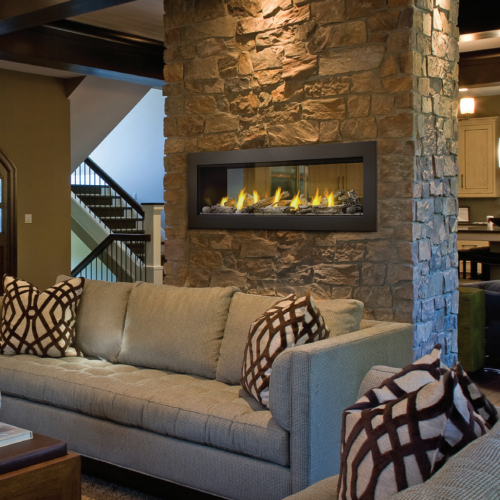 With a sleek linear design and a multitude of designer options, Napoleon's Acies™ series of linear gas fireplace provide a complete luxurious experience, courtesy of their new Divinity™ flame pattern. Available as a single sided or a two sided See-Thru model, the radiant glow is enjoyed through the clear glass bead ember bed with the option of adding Beach Fire, Shore Fire, Mineral Rock media enhancement kits and more, including Premium Birch Logs.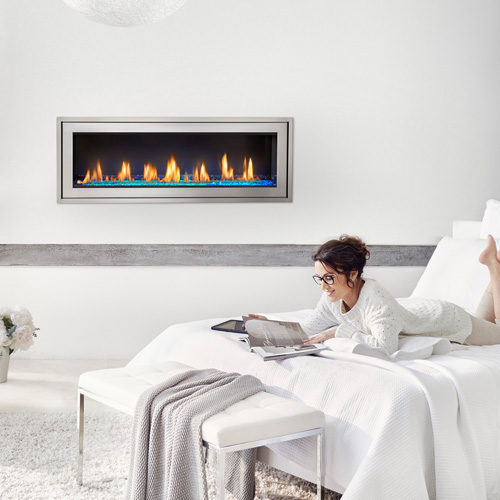 The Napoleon Vector™ 50 Gas Fireplace is second to none. Relax in front of 799 in² of fireplace viewing area while up to 40,000 BTU's of heat fills your room with the comforting glow of the DIVINITY™ flame pattern. The LED ember bed allows you to instantly set the mood. Create any feel, any look, any color of ember bed you wish and control it all with Napoleon's Bluetooth enabled eFIRE app directly from your mobile device. Aside from the infinite choices of LED colors for your emberbed, the eFIRE app also allows you to control flame height, blower and a pulsating emberbed LED pattern.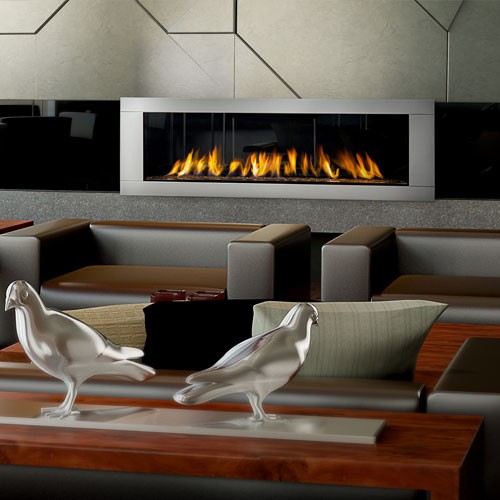 The Napoleon Linear™ 62 Gas Fireplace can be installed in both residential or commercial applications. With various media enhancement kits and decorative options to choose from, it's easy to make The Linear™ 62 Gas Fireplace the perfect focal point for any room in your home. The state-of-the-art Proflame II remote control, allows convenient flame adjustment, flame on/off and operates the exclusive NIGHT LIGHT™. The Linear™ 62 comes standard with a Topaz CRYSTALINE™ ember bed, four-piece black trim, Proflame II remote control, MIRRO-FLAME™ Porcelain Reflective Radiant Panels and electronic ignition making it the perfect fireplace for lobbies, entrance ways, hallways, bars, lounges, living rooms and more.
Inspired by traditional masonry details and created with Napoleon's state-of-the-art gas fireplace technology, the deluxe Napoleon Starfire 40 Gas Fireplace offers the ultimate in performance and design. The clean face front allows a full view of the impressive 40″ wide firebox with your choice of either fine detailed PHAZER® logs and charcoal embers or a river rock ember bed. The exclusive NIGHT LIGHT™ accents the firebox even when the fireplace is off. A perfect investment for your lifestyle and your home.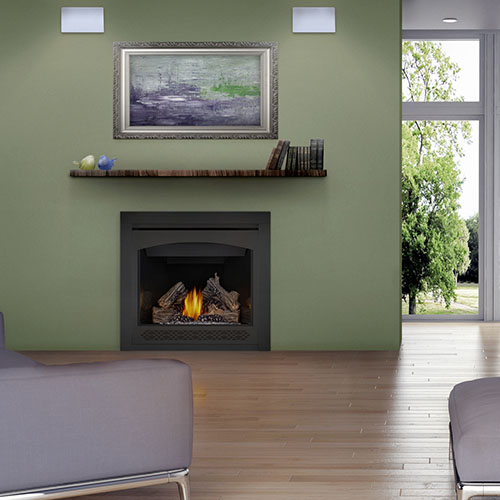 The Napoleon Ascent™ 36 Gas Fireplace adds ambiance to any room and is perfect for builders and homeowners alike. The shallow depth allows for versatile installations where space is at a premium and is also ideal for corner applications. The clean face design of the Ascent™ 36 maximizes the viewing area so the realistic flames and hand painted PHAZER® log set are enjoyed to their fullest.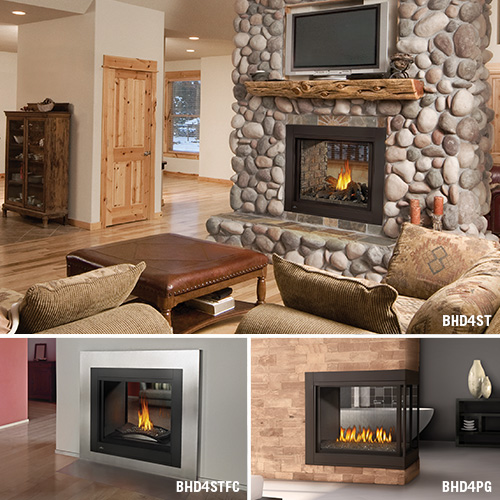 The Napoleon Ascent™ Multi-View Gas Fireplace is available as a See Thru or a three-sided Peninsula and features various firebox/burner options including a log burner, a linear glass burner or a designer fire cradle featuring topaz glass to match any room in your home. The new Ascent™ Multi-View Gas Fireplace offers up to 30,000 BTU's, a massive 2,023 in² viewing area, multiple firebox configurations and electronic ignition with battery back-up. Media kits and decorative panels are available to match any room in your home.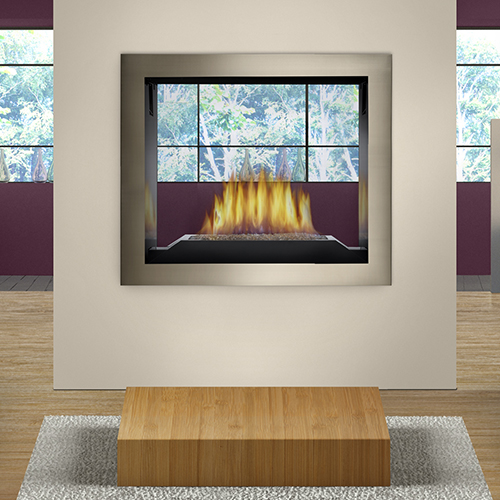 The first See-Thru fireplace in the industry to offer such dynamic choices for firebox design options. The Napoleon High Definition 81 Gas Fireplace features exclusive NIGHT LIGHT™ that radiates a warm glow into the room(s) even when the fireplace is off and a split burner system that produces beautiful YELLOW DANCING FLAMES®. Besides supplying two rooms with exceptional focal points, the High Definition 81 also offers the choice of a traditional PHAZER® log set, a modern CRYSTALINE™ ember bed or a glowing river rock setting. One fireplace, two rooms, exceptional views!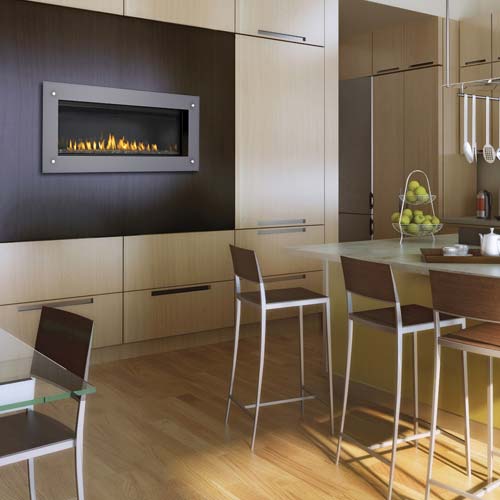 The Napoleon Linear™ 45 Gas Fireplace with a modern, linear look is specifically designed to provide you with a sophisticated fire element that is perfect for both new building and renovation projects. The Linear™ 45 Gas Fireplace comes standard with Napoleon's exclusive Topaz CRYSTALINE™ember bed that sparkles with a luxurious glow. To create a dramatic mix, optional river rocks and colored glass are available to replace or enhance the Topaz CRYSTALINE™ ember bed.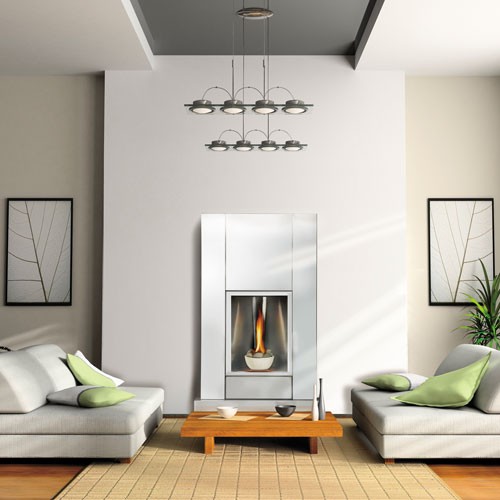 Combining style, modernism and elegance into one fireplace, the Napoleon Tureen™ Gas Fireplace does this and more. A totally unique modern style, showcasing a contemporary ceramic bowl, accented with stylish river rocks and a towering flame. Its impressive design is certain to create a dynamic and extraordinary focal point wherever it is installed.